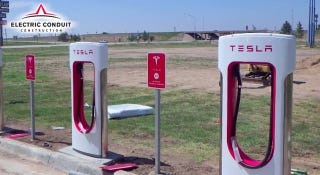 So you want to drive your Tesla Model S across the country and pay for zero electricity? Cool story. Tesla says that's not a problem with its fancy Supercharger stations. But how exactly does Tesla build those Supercharger sites?
We break down the detailed version of how Tesla builds its Supercharger sites on Green Car Reports at the link below, but the simplest way to answer that question is: a lot of digging, apparently.
The process includes trenching and running high-capacity electric cables before the charging stations themselves are even installed. For reference, the Supercharging site in Goodland, Kansas with six Superchargers took 11 days to install.
Obviously a battery swapping station could be seen as more convenient by some Tesla owners, and the automaker did promise these would be arriving at some point, but we've yet to see one open.